After nearly one year of intense documentation and exploration for the first stage of my PhD project, which started in February 2016, right now just before entering in the "fieldwork phase", it seems a good moment to take a look at some of my notes, findings and thoughts around the process. And also how I have been experiencing this intellectual effort and challenge at the personal level.
First of all, let's clarify that I knew in advance it was going to be hard, time-consuming and engrossing, after two other attempts to start such academic journey in different periods of my life. The previous times the subject was different (related to Wikipedia and open source, today a quite defined and covered research topic in the field of collaborative knowledge generation). In this case, years later, I'm focusing on co-creation in the context of collaborative research management, with the opportunity and privilege of connecting it with my professional activity as coordinator and PhD candidate at the Dimmons research group leaded by Mayo Fuster. That meant, also, that I could work in parallel in an inductive and also deductive way (learning things that I could then apply to my work, and the other way around). It was also a moment, compared to the previous ones, when I felt I could really contribute with valuable experience and perspectives to a field of knowledge, in my case from the perspective of a practitioner.
So the first months were basically intense trying to define properly a theoretical framework and some of the project limits and goals. I soon realised I was starting some sort of "meta research" process while in parallel understanding by practise different aspects and peculiarities of the day to day of academic research. I started with the general will of exploring and applying practical solutions to such knowledge-intensive domain, based on my previous professional background as co-creation facilitator (after years leading participatory design processes and, as Scrum master, the collaborative development of digital projects).
At that early stage of my PhD project, while reading more and more about collaborative research practices and discussing the topic with other people, I identified the need to clearly distinguish between the two domains where I wanted to confirm the possibility of adopting (or "appropriating", in better words) powerful methodologies and frameworks: agile and design thinking.
Such differentiation was (and still is) a complex issue. Agile comes from the world of software development (although is currently being adopted in many other domains), while design thinking (and more specifically co-design practices, as I started to frame it conceptually) has a very different trajectory and controversial approach on it own. When it comes to validate the usefulness, advantages and possibility of adopting both frameworks in the collaborative generation of knowledge (not even in the specific domain of research, where there are to my knowledge still few cases documented) soon I found there's different interpretations and opinions in academic literature.
While it seems widely accepted and demonstrated that some agile frameworks work well in software development, there's less data and more controversy about its adoption in other informational contexts. In the case of design thinking, on the other hand, and to some extent the broader field of design in general, the way it has been approached in research from different fields represents also a challenge. Specially when it comes to distinguish what works and what does not (not to mention the academic acceptance of design as a discipline, different to the ones of science and the arts).
In both cases, as well, I already knew by professional experience how in the worlds of consulting and organizational management, agile and design thinking have become some sort of a trend or fad. When starting to explain to other people the aim of my research I found from time to time some scepticism, similar to the one generated by buzzwords like "innovation" or "social impact". However, I consider one has to take those signs as some sort of indication. Results of a trend (or even abuse) by market dynamics trying to solve a real need or opportunity. It probably means there's something going on "below the radars", worth approaching with an analytic lens in order to confirm if it works or not (and how). In my case, after working from a facilitator role and point of view, guiding and contributing in different types of projects to constructive group dynamics (in order to co-design and co-develop seminal ideas, until turning them into something more tangible), I always considered there's a real possibility of adopting materials, methods and philosophies from agile and design thinking to the management of collaborative research.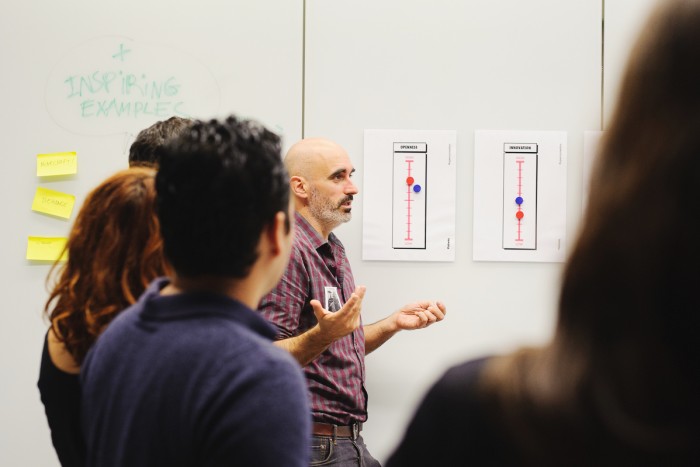 But what do we mean by collaborative research? That key element has also been hard to approach at the theoretical level, considering that nowadays at some stage, in one way or another, almost all research can be considered produced in some sort of collaboration (and every time it seems more difficult to identify "pure" traditional single-investigator driven approaches). From co-authorship of papers to interactions through research networks (usually mediated by digital tools and processes), collaboration in research seems today rather the norm, although at the same time a quite unsystematized and relatively new field in terms of documented practices and protocols. There, I progressively identified three different domains where the participative element seems especially relevant: action research, team science and citizen science.
First I evolved from a focus in the specific but also complex field of action research (which has a clear participative element, and characterises much of the work we do at Dimmons), to a broader consideration of some other academic and research practices where collaboration constitutes a key aspect. Action research has a long tradition of focusing on how to solve problems relevant to communities and organisations, involving them through the inquiry process, but I also wanted to explore other domains where participative elements represent a key element.
Apart from literature in the areas of knowledge management, organizational learning, system thinking or science and technology (and of course more specific studies around agile and co-design), after a long and sometimes frustrating period exploring literature on academic co-authorship and on research design, thanks to a colleague in another research department I came across the field of science of team science. And from there, to different studies and considerations on how scientific teams collaborate internally and externally, at different scales.
Finally, as a third relevant dimension of collaborative practices in research, somehow between the mentioned ones and the broad concept of community-based research, I realised how citizen science and its civic participative ethos (doing research "with people", who can help to gather data but also influence the research design) represents also a set of practices where agile and design thinking could probably contribute to define and manage processes.
During the last months of this first year I progressively realised, while reading more papers and books, and remembering my own practices, how important is to distinguish the ideation moment of a given research process (where co-design techniques can take place) from the day to day of developing it (as a regular and even cyclical phase, where some practices of agile have much to offer). And specially what it means to integrate multidisciplinary perspectives and to visually manage tasks, responsibilities and who does what in order to produce results (from specific experiments, to publish a report or paper, for example).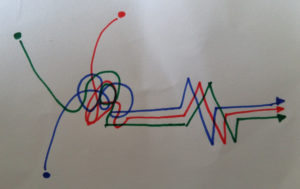 So in parallel I have just started a more "creative" phase, identifying key aspects to observe for the case studies and research methods I need to work from now on for the fieldwork (around issues like diversity, complexity, modularity, visualization, iterativity, etc). I also tested some of the methods and techniques from agile and co-design in several research environments, trying to grasp what basic elements of visualization and iterations (helping to guide discussions and agreements) I could implement in a more structured way to consistent collaborative research processes. For example paying more detailed attention to other facilitator's work and way of doing, as an observer participant, or organising collective inquiry sessions around community-centered design issues.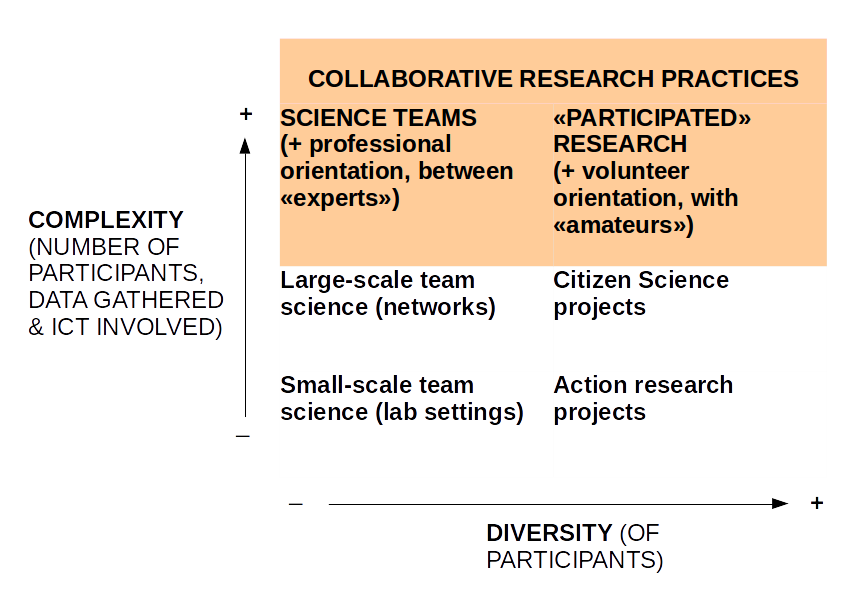 And specially, at the same time, starting to define the materials and instructions needed for the collaborative ideation and development of different research projects where I'm going to be involved (as facilitator and also participant observer). This has been progressively a new element in the project, where I'm trying not only to develop this inquiry at the conceptual and academic level, but also to ideally generate useful materials. In this case, a toolkit for the management of collaborative research that I can openly share and maybe other people reuse and test, even improve (as copyleft licensed material).
Ah, and I also recently came to the conclusion that this meta research project about methods for collaborative research management probably deserves a name: "ColMeth" sounded like a good one 🙂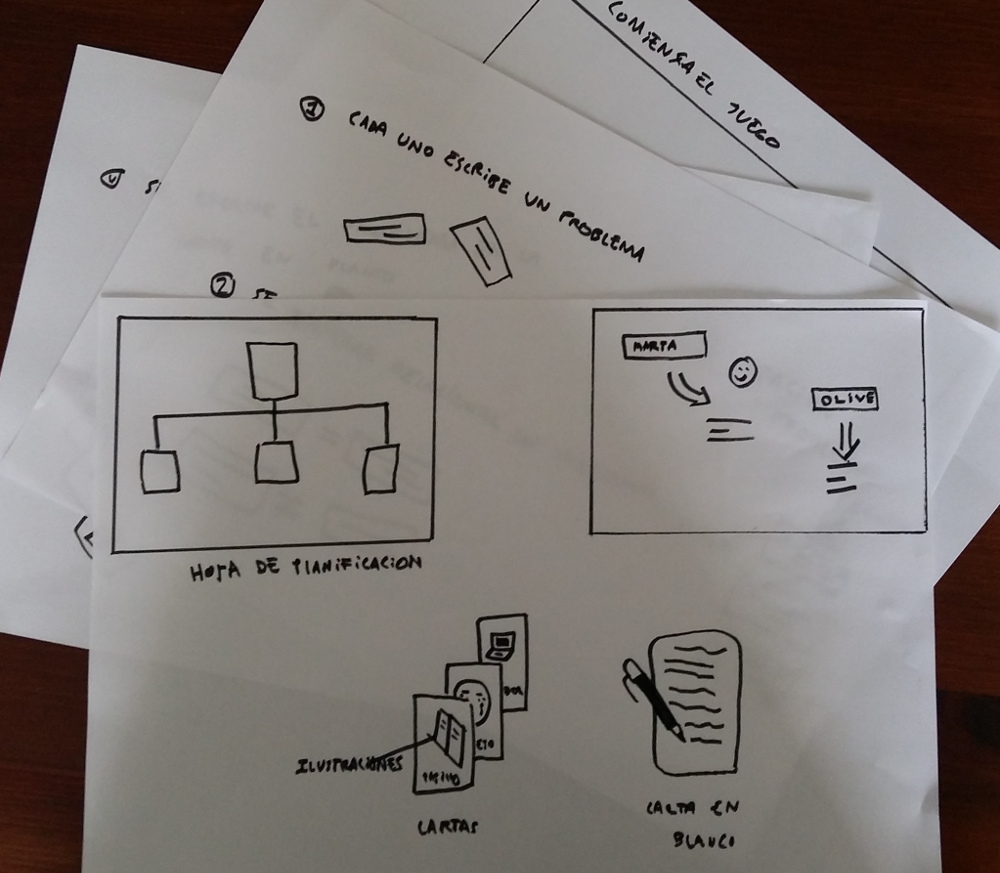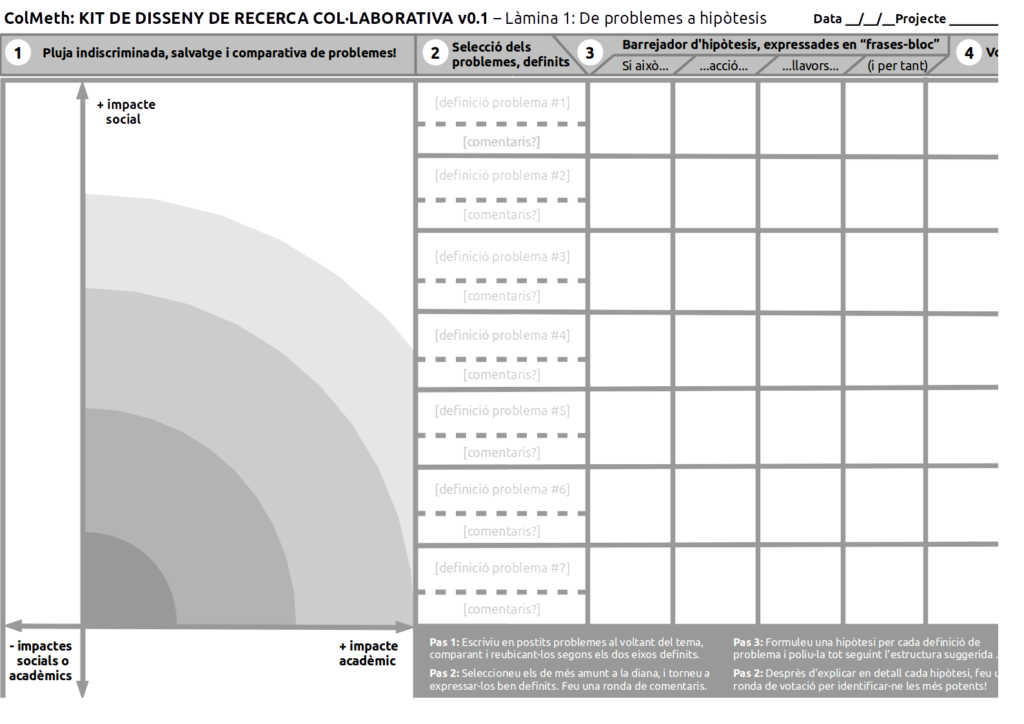 Save
Save
Save
Save
Save
Save
Save