Some weeks ago there was a happy reunion of projects, people and interests around agile publishing and book formats during the 7th edition of the Kosmopolis festival, where the fest of amplified literature gathered writers, publishers and different book related tribes in Barcelona.
There for three days, at one of the windy corners of the CCCB courtyard, you could see a blue van parked next to some wood tables stuffed with books, folded papers, a couple of laptops, a printer, a guillotine, a binder and some other suspicious tools for making books. It was the Booki van, Mediterranean edition.
That's where took place the coincidence of the Booki software for DIY books, the art of illustration and an old format of microbooks made out of one single page, called pliegos in Spanish. There are four of us behind the sum of those projects, interested in similar things, and we talked about quite a lot before we meet, planned different things, so we could end up experimenting with (best explained with images):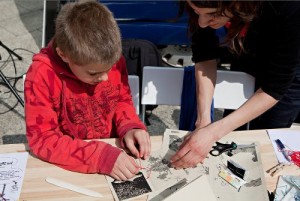 Printing and folding pliegos, not only written ones but some others just with illustrations, telling a story on a nice textured paper. Also testing a new pliego maker that could make the whole online process in the wink of an eye.
Making nice paper books about the Open Web, printing them right away at an outdoor public space like an open process, then cutting, blinding and displaying them, testing new colour covers.
Publishing some novel authors, people that came with their collections of short stories in a pen drive and then we show them how to edit with Booki in order to have those word processor pages ready to go.
Doing workshops with kids and microformats, in a double process where some adults were asked the day before to write short stories on top of the 8 small pages of a pliego, then kids had to illustrate them before they can take them home.
Giving lightning talks about it all, about Booki as software and pliegos as books, but also on a continuous mode about the van itself, who we were and how easy it's to publish today on paper (that ancient but still powerful way 🙂
Having a continuous demo of Booki software, where one dedicated laptop showed the page and invited people to contribute, play, test, and at the end of that experience there's for example the Spanish interface ready to go now.
After the experience now pages, stuff and plans are all remixed again between Barcelona and Berlin, so hopefully soon we could experiment more booki things together… Some more pics: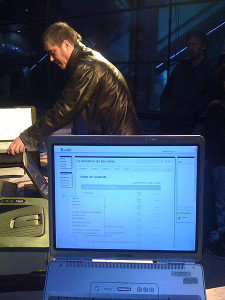 Working at night.
Old and new pliegos.
Pliego reader.